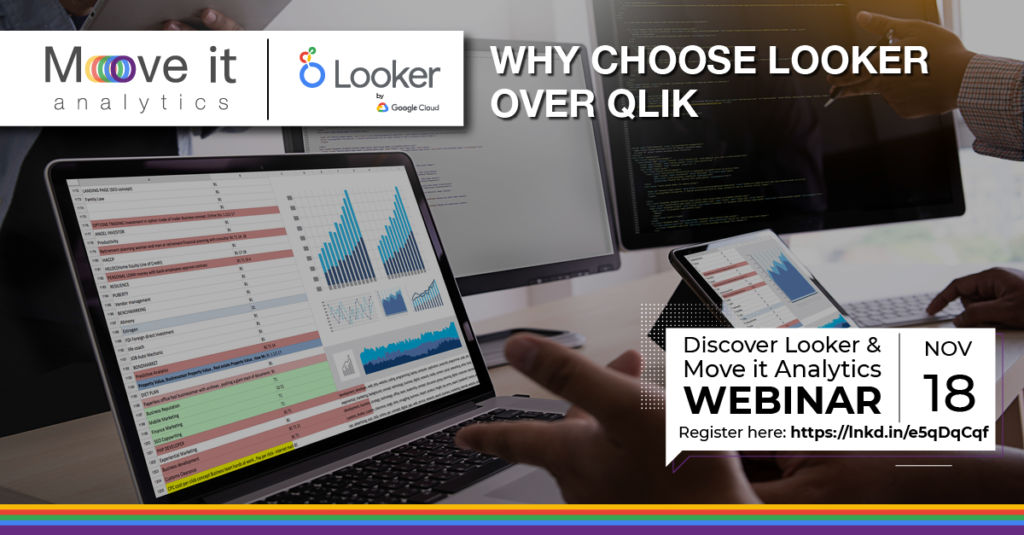 With Looker, both QlikView and Qlik Sense customers can achieve more than creating dashboards and building basic BI applications. They can reach more users and have a greater impact on business outcomes by creating new ways for all users to consume data and insights. The Looker data platform enables customers to deliver on core BI functionality using a modern approach, and empowers them to do so much more by developing new data products and infusing data into vital operational workflows.
The Looker data platform forms the foundation for all types of data experiences, and is supported by a trusted data model that consistently defines key business rules and metrics, as well as granular user permission. Since inception, the foundation of Looker's platform has been a single modeling layer, extensible via a robust set of APIs which serves as the source for all content, products, applications and integrations and also ensures viability for addressing future business needs and new use cases. Customers say that Looker's flexible, yet powerful, foundation enables them to solve new business problems and unlock the power of analytic insights to reach a broader and diverse range of users in new ways.
Customers who compared our solution against both Qlik Sense and QlikView most frequently cite the following advantages of Looker:
Designed for cloud scale
Today's modern cloud databases are ideal for unpredictable and increasingly demanding analytic needs of organizations. Users of all types ask more questions of a growing mass of data that has made it more important than ever for the underlying database to keep up with an increased demand for insights. Qlik's in-memory architecture was developed at a time when databases weren't nearly as powerful, scalable or performed the way they do today, which made in-memory extraction necessary. Looker's architecture was designed to take advantage of native cloud scalability and performance. Unlike Qlik, Looker doesn't force you to extract data from high performing databases, but offers the ability to replicate and maintain it in a separate, proprietary in-memory architecture.
Looker's in-database cloud-optimized architecture eliminates the proliferation and unnecessary maintenance of the redundant — and potentially obsolete — data extracts common in both Qlik Sense and QlikView deployments. Beyond the redundancy and maintenance that extracts introduce, limitations also exist in terms of the size and complexity of data that can be analyzed, making it difficult to scale deployments. Looker's multicloud capability makes your data strategy future-proof. You can easily change where you choose to deploy Looker and the underlying cloud database(s) you use with no downstream impact to end users and no need to rebuild data pipelines.
Centrally-defined business rules
The unique Looker platform delivers the perfect balance between governance and self-service by enabling analysts already familiar with SQL to contribute to Looker's git version-controlled data model and define or maintain business rules for their organization. Less technical business users not familiar with SQL can easily access and interact with the trusted, curated content most relevant to them and the workflows they support.
Most competitive solutions, including Qlik Sense and QlikView, maintain business rules and transformations at the application or workbook level, but cannot share definitions across them. This creates a significant challenge and unnecessary overhead to maintain consistent definitions across all objects and to synchronize extracted results as the business rules or underlying data changes. Looker's business logic layer is separate from underlying data and shared across all downstream content. This enables immediate changes to the data model and instant propagation of downstream updates as business rules evolve and change over time and translates into reduced maintenance overhead for greater customer ROI.
Roadmap focused on modern data experiences
Looker enables organizations to deliver core business intelligence content to users, and unlocks the value of a growing mass of data through innovative data experiences. These data experiencesinclude: infusing data into operational workflows to automate real-time decision-making, delivering integrated insights in the most appropriate context for users, and the ability to create and deploy robust custom applications both inside and outside the organization. Looker was built on a 100% web-based platform and is uniquely suited to unlock new value far beyond what is possible with only reports and dashboards.
QlikView was once considered to be disruptive technology, but it has now been around for almost 30 years and was developed at a time when data was far less complex and not nearly as abundant or experiencing such explosive growth. Even Qlik's newer product, Qlik Sense, is limited in terms of the types of experiences that organizations can deliver. Similar to QlikView, Qlik Sense is used primarily to build and deploy dashboards and basic applications based on data that has been extracted to Qlik's proprietary in-memory associative engine. With both products deployed in the market, but lacking cross-product integration, coupled with several recent data management-related acquisitions, many Qlik customers are confused about individual product roadmaps and overall product strategy.
Exploration of a curated data layer
Looker's platform is based on its centrally managed modeling layer, LookML, which promotes reuse of dimensions and measures as business rules only need to be defined once. Since business users don't need to worry about creating and maintaining their own definitions, they can focus on true analysis and exploration of curated data. The LookML modeling layer not only guarantees that all curated content, including reports and dashboards renders accurate, timely and consistent metrics, it also allows non-technical users to ask and answer their own questions through an intuitive web-based interface.
Unlike Looker, Qlik Sense and QlikView business users need to provide dashboard specifications and requirements to more technical users, typically IT developers, who have the skills to connect to underlying data and develop and deploy dashboards and basic applications. Once built, Qlik users can explore data but only within the boundaries of the dashboard or application that a designer built for them. If they come up with new questions that can't be answered by pre-built content, they need to go back to IT to add new fields to the extracts and downstream dashboards and applications.
Expert in-product live chat support
Looker prioritizes customer feedback and relationships above all else. Instead of placing customers in a technical support queue where they're forced to wait days for a response, we connect customers with a person who cares about solving their issues. Looker is so different from Qlik and other competitors when it comes to support that we have our own name for it — DCL (the Department of Customer Love).
Looker customers access DCL through in-product, live chat any time they need help with a particular feature, or have a question about the product — without leaving the platform. Customers consistently rate Looker support as one of the most appreciated features of our product.
Taken directly from: https://looker.com/compare/looker-vs-qlik
---
With Looker, both QlikView and Qlik Sense customers can achieve more than creating dashboards and building basic BI applications. They can reach more users and have a greater impact on business outcomes by creating new ways for all users to consume data and insights.
Today, with the exclusive partnership between Google Cloud, Looker and Move it Analytics, it is easier than ever to migrate your Qlik environment and start enjoying the unique features available in Looker. Join our webinar and see how to easily migrate from Qlik to Looker with AI-assisted tools.