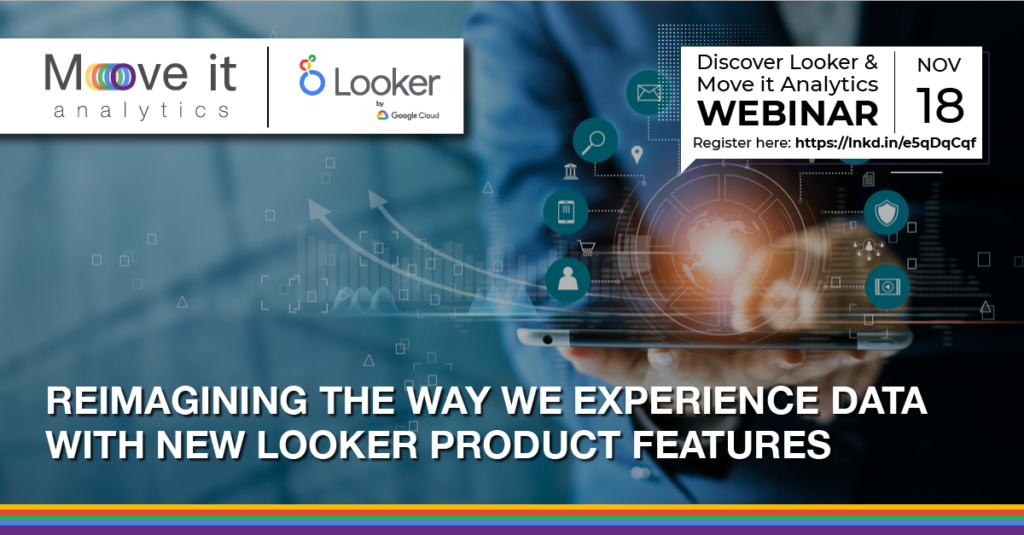 >> Join our exclusive webinar and discover Looker <<
Today we are excited to announce new features to help organizations deliver data-driven experiences at scale—a critical capability for successful business transformation. 
Over the past two decades, the way we experience data has fundamentally changed. Whether we are watching a movie via a streaming service, shopping online, or working out with our smart watch, data has naturally and elegantly become an essential part of our lives. Being immersed in data every day has become so second nature that we hardly realize it's there.
We believe that the way we've become used to experiencing data in our personal lives has influenced what we expect from data at work. And just like Google transformed the way we access the world's information, we think Looker can transform the way we work by reimagining how we experience business data. That requires a revitalized approach to delivering data and analytics.
Going beyond traditional BI to create rich data experiences
More than ever before, it's necessary to think beyond classic data visualization and dashboards. While dashboards remain important and we continue to invest in Looker's data visualization capabilities, they're not the whole story. Information workers need rich data experiences tailored to the way they already work. These experiences involve using data as fuel for data-driven business workflows, to power digital experiences that enhance the value of existing applications, and to build data-driven products that increase engagement, conversions, and advocacy by improving the customer experience and unlocking opportunities to monetize data.
It is within this context that we are releasing a new set of features, as part of Looker 21, that will enable organizations to build these data experiences, innovative data products faster, and extend their insight into more areas of the business with packaged analytics.
Faster application development with the Looker Extension Framework
One of these features is Looker's Extension Framework, a part of the new Looker Developer Portal, which takes care of some of the more tedious aspects of building a web application so that developers can focus on what matters most: developing data products. It reduces developer friction by handling the hosting, security, and DevOps, so developers can focus solely on building a great user experience and trust that delivering it won't be a struggle. One of our partners, 4Mile Analytics, leveraged the Extension Framework for easy comparison of metrics between slices of a dataset, allowing their users to ask questions and gain insights from their data.
"Using the Looker Extension Framework has been a game changer for us. We are able to quickly develop and deploy applications. We need not worry about authentication, hosting, and are able to match the look and feel of the Looker platform, saving time on front-end development."—Nick Fogler, CEO at 4Mile.
With Looker's powerful development tools, organizations can more easily monetize their data, creating new and on-going revenue streams. According to a Forrester Consulting Total Economic Impact™ study commissioned by Google in June 2021: "The ability to embed analytics into their own products enabled interviewed customers to command higher average sales prices and provide better customer service. The average contract value improved by 26% after implementing Looker while customer retention improved by 7%". (https://looker.com/learn/forrestertei)
Drizly, North America's largest ecommerce and delivery platform for beer, wine, and spirits, leveraged Looker to bring a new data product to market for suppliers and retailers in just six months.
"At the start of the pandemic, we saw 8x growth which drove us to reimagine our data strategy. Looker was able to support this rapid growth and better support our customers. By leveraging the data model and foundation we already had in place with Looker, we were able to develop and monetize an entirely new data product in less than 6 months, with Looker's APIs and development framework." —Athena Casarotto, BI Manager at Drizly
>> Join our exclusive webinar and discover Looker <<
Continued multi-cloud support with hosting on Microsoft Azure
As organizations like Drizly build data products and monetize their data, one thing that matters to data leaders is the choice of platforms on which to host and deploy their applications. Most organizations have data stored in more than one database and spread across multiple cloud providers or on-premises. In this release we reaffirm our commitment to a multicloud approach and now support hosting on Microsoft Azure, in addition to Google Cloud and AWS. By hosting Looker on the cloud of their choice, organizations can improve performance, consolidate cloud deployments, meet compliance requirements, and better fit analytics into their cloud strategy.
Moderna leverages a multicloud data strategy to use and integrate the best tools for the job at hand.
"Looker fits well with this philosophy because we can choose our preferred database and leverage integrations to make our data accessible and actionable. Overall, Google is making a lot of progress in multi-cloud which allows you to not have to think about the vendor and just adopt what you need to do the job well." —Dave Johnson, VP of Informatics, Data Science, and AI at Moderna
Easier development, transparent cost management, and more accessible insights
In addition to the improvements named above, our engineers have built an exciting new feature set to support a breadth of data experiences from modern BI to custom data applications. Here are just a few of the new Looker capabilities you can take advantage of:
API Explorer – an interactive way to explore the Looker API, prototype requests, and execute complex API calls without writing code.
Filter components – allows developers to bring the filters they declare on any dashboard in Looker into any embedded application or extension.
Cloud Cost Management solution – offers out-of-box robust reporting and BI capabilities to get up and running quickly with transparency across the three major clouds.
Looker mobile app – allows everyone to get insights on the go on their mobile devices. The app is available in 22 languages, and supports biometric authentication like face or touch ID.
Looker's mission is to empower people through the smarter use of data. To us, that means enabling organizations to build rich data-driven experiences tailored to the way people work, through a platform that scales and grows with your business, allows developers to build innovative data products faster, and helps make your business smarter. 
---
Google Cloud has launch new features for its Business Analytics branch, Looker. Over the past two decades, the way we experience data has fundamentally changed. Data has naturally and elegantly become an essential part of our lives. Being immersed in data every day has become so second nature that we hardly realize it's there.
Simplify your Analytics with Looker and Move it Analytics. See Looker in action, presented by Looker and Google Cloud experts. Join our exclusive webinar.