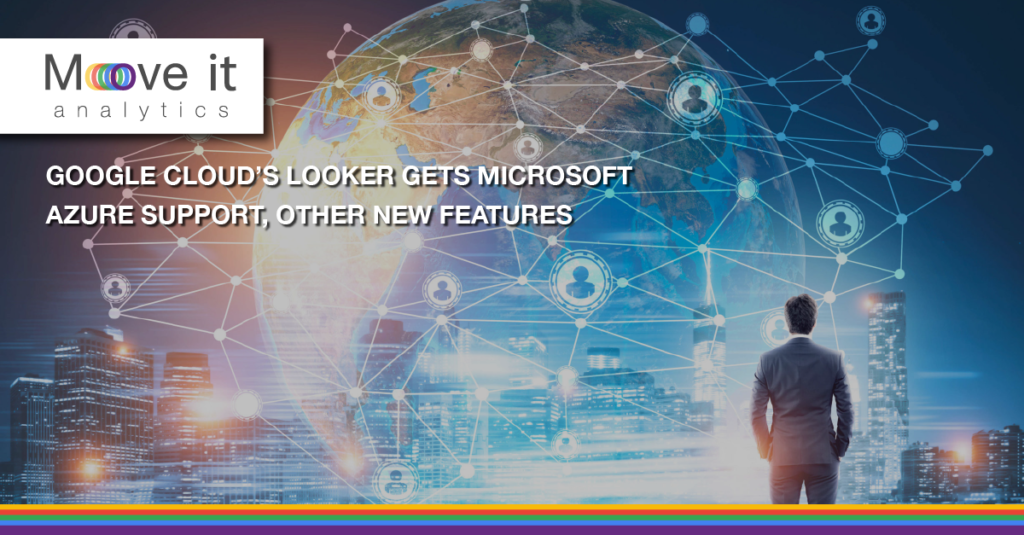 Google Cloud has added support for Microsoft Azure hosting to Looker, its enterprise platform for business intelligence, data applications and embedded analytics.
The new support aligns with Google Cloud's multi-cloud stance and is among several new Looker features added today to help organizations build rich data-driven experiences at scale and innovative data products faster, and extend their insight into more business areas with packaged analytics, according to Pedro Arellano, Google Cloud's director of outbound product management for Looker.
Looker already supported hosting on Amazon Web Services (AWS) in addition to Google Cloud.
"Most organizations have data stored in more than one database and spread across multiple cloud providers or on-premises," Arellano said in a blog post today. "By hosting Looker on the cloud of their choice, organizations can improve performance, consolidate cloud deployments, meet compliance requirements and better fit analytics into their cloud strategy."
Looker's support for Microsoft Azure hosting creates a new, more flexible environment to help determine the best landing zone for data integration to monetization, according to Paul Lewis, chief technology officer at Pythian Services, a New York-based data, analytics and cloud services company that earned Google Cloud's 2020 Specialization Partner of the Year for Data Management Award this week.
"All customers will have a diversified deployment model that will include multiple clouds with third parties and even on the edge, on top of their data center," Lewis said.
It's now necessary to think beyond traditional business intelligence (BI) and classic data visualization and dashboards, according to Arellano.
"While dashboards remain important, and we continue to invest in Looker's data visualization capabilities, they're not the whole story," he said. "Information workers need rich data experiences tailored to the way they already work. These experiences involve using data as fuel for data-driven business workflows to power digital experiences that enhance the value of existing applications and to build data-driven products that increase engagement, conversions and advocacy by improving the customer experience and unlocking opportunities to monetize data."
Google Cloud completed its $2.6 billion acquisition of Looker in February 2020. It's now referring to Looker as Looker 21, with the number "21" referring to this year. In January, it said it was simplifying its product version numbering to align with the calendar years, so Looker 7.x changed to Looker 21.x.
New Looker Development Portal And Extension Framework
Google Cloud designed a new Looker developer portal, slated to go live during the first week of August, as a new one-stop hub for developers. The portal consolidates Looker's developer resources including documentation, tutorials, sample code and examples, and makes them easier to find. Portal resources include overview guides and tutorials for Looker APIs and SDKs, embedding, components, the Looker Action Hub, the new extension framework and the Looker Marketplace. The portal also serves as the new Looker community home where developers can engage, ask questions and learn about upcoming events.
Monetizing data is the key to delivering a digital transformation program, whether it's for creating operational efficiency, introducing new business models or delivering a tailored customer experience, according to Lewis.
"The new Looker development portal enables developers to focus entirely on deriving insights from an organization's data estate, creating new value from those golden nuggets while relieving them of repetitive development activities," he said.
As part of the new portal, Google Cloud has added a Looker extension framework that it says handles some of the more tedious aspects of building web applications.
"It reduces developer friction by handling the hosting, security and DevOps, so developers can focus solely on building a great user experience and trust that delivering it won't be a struggle," Arellano said.
The development framework reduces the effort and complexity of building custom JavaScript data applications and tools, including an organization's internal platform applications; external platforms for their customers, such as portals for embedded analytics; applications built with data in Looker, targeted internal tools; and applications for embedding in external applications.
Santa Cruz, Calif.-based 4 Mile Analytics, which specializes in delivering services on the Looker platform, used the extension framework to compare metrics between slices of a dataset, allowing its users to ask questions and gain insights from their data.
"Using the Looker extension framework has been a game changer for us," 4 Mile CEO Nick Fogler said. "We are able to quickly develop and deploy applications. We need not worry about authentication (and) hosting, and are able to match the look and feel of the Looker platform, saving time on front-end development."
Other New Features
Other new Looker features include new incremental persistent derived tables (PDTs) that allow data teams to reduce database load and increase query performance.
API Explorer provides an interactive way to explore the Looker API, prototype requests and execute complex API calls without writing code. It provides detailed product documentation and developer resources such as interactive features and language-specific information.
"As application architecture models shift into highly scalable, loosely coupled micro-services, the implementation and use of complex APIs becomes paramount," Pythian's Lewis said. "Unfortunately, the use and implementation of many APIs can become unwieldy, creating implementations that do not perform well. API Explorer allows the development team to not only research the use of the variety of APIs available, but also create MVP versions of an application to their exact needs. This will lead to a significant improvement in extensibility."
New Looker filter components allow developers to bring the filters they declare on any dashboard in Looker into any embedded application or extension. They can connect directly to a Looker dashboard and will update when changes are made to the filter in Looker. The filter components decrease application maintenance and overhead for developers, bringing analysts closer to product development and enhancing the interaction between users and their data, according to Google Cloud.
Google Cloud also introduced a cloud cost-management solution for Looker that enables FinOps professionals to manage spending across cloud providers with out-of-the-box reporting and BI capabilities. It allows for easier and faster identification of outlier high-cost problems and slow-burn global inefficiencies. Blocks for analyzing and managing costs across Google Cloud Platform, AWS and Microsoft Azure are available in the Looker Marketplace.
A new native Looker mobile application for iOS and Android is now generally available, allowing customers to get insights on their mobile devices. The app, which is available in 22 languages, supports biometric authentication such as face or touch identification.
"Data is now both created and consumed at the edge," Lewis said. "Task workers, information workers, essential workers and executives have shifted from consuming insights from within the office to consuming from remote environments via multiple devices such as phones, tablets and laptops. The Looker mobile app extends the corporate knowledge base into the hands of every employee — anywhere at any time — while maintaining the necessary controls on intellectual property."
And Looker's trendlines feature also now is generally available, allowing users to easily create trendlines from the Y-Axis menu in the Explore interface and visualize a trend for all their data points over a period of time. Trendlines now are backed by the vega-statistics library for more consistent results on a wide variety of data, according to Google Cloud.
Taken directly from: https://www.crn.com/news/cloud/google-cloud-s-looker-gets-microsoft-azure-support-other-new-features by Donna Goodiso